Website designing offer in Nepal for small, medium and large business, social organizations etc and it is the most cheap and best professional website design in Nepal. You'll get professional website at reasonable price. Choose opensource technologies instead of customized sites for normal websites. This will save time and money.
Offer status: OPEN
offer status may be closed for some days, weeks or even for years when we are overbooked.
Price: Nrs. 5,000
Duration: 3 to 5 days
Offer include: website setup
Offer exclude: domain and hosting
For domain and hosting – you can use your own domain and hosting if you already have it. You can also purchase domain and hosting from other company or we can also provide it.
How to reduce website operating cost?
Domain: use free domain .com.np instead of .com, there are other free domain extensions also but .np is the best choice.
Hosting: To reduced hosting expense you can reduce the amount of images and documents such as pdf in your website so that small hosting size will be sufficient. It will also save website bandwidth so that you'll not need to purchase higher packages.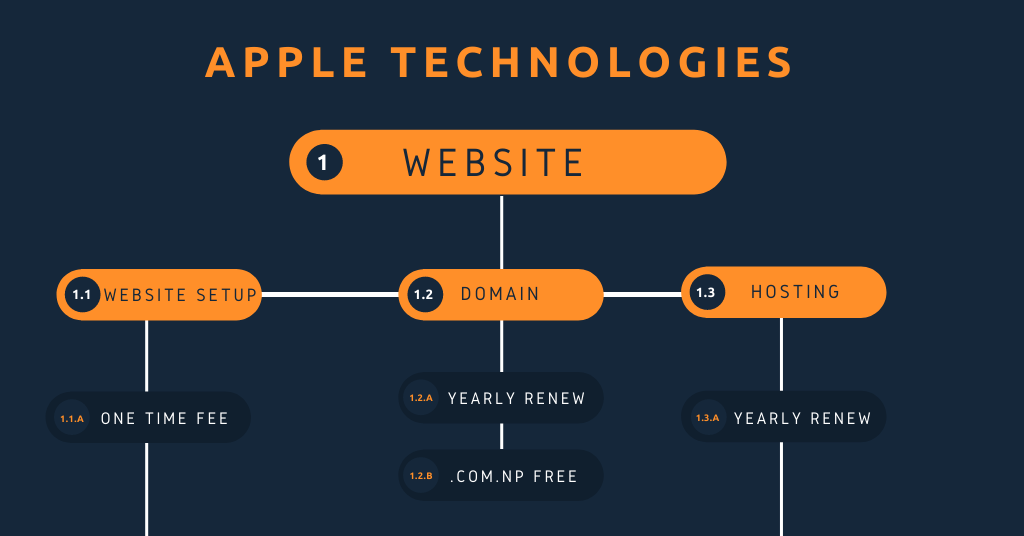 FAQ (frequently asked questions)
What is domain ?
Domain name like www.swayambhunath.com, www.atnepal.net
Is domain free ?
.com.np domain is free but .com domain has yearly cost from Nrs.1200 to Nrs. 1800 etc.
What is hosting ?
It is a place where your website files like images, text etc will be stored.
What will be the cost of hosting per year ?
It depends upon sever and space required. You can get offers from Nrs. 800, 1000, 1500 etc in the market but we provide normal good speed server at the cost of starting price Nrs. 3000 per year.
Can I get domain, hosting for other company and website setup from Apple technologies ?
Yes
How can I manage website ?
You can manage website easily from Admin panel. We'll provide you username and password.
Will be website be compatible in mobile also ?
Yes.
How can I get this offer ?
For offer packages you can visit our office or we can work online using zoom, phone, email, facebook chat/messanger, viber.